Typically, I love novels by Sandra Brown.

Here comes the "but."
The format was typical for a romantic suspense, but I had no compassion for the heroine, Jordie Bennet.

She was too much of a bitch, and when it came to softening her up for the romantic feelings and "good person" feel, I didn't fall for it.
Shaw Kinnard is a gun for hire and captures Jordie for a sum of two million.

Jordie has to figure out why he doesn't kill her right away back in the Louisiana swamp and how she can get away before it does happen.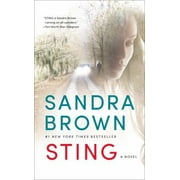 Shaw has his reason for holding off on the kill.

Jordie's brother is working for Shaw's boss and the brother might know where a grand sum of thirty million is stashed.

Shaw claims to be holding Jordie hostage for the jackpot.
Well, I can see the "bad man," Shaw, wanting to get it on with his beautiful and rich captive, but the fact that Jordie has unwanted feelings for the man she still believes will kill her and possibly go after her brother, too, is a touch too unbelievable.
I figured out the twist in the plot (I won't give that up
)
easily in the first seventy pages or so.

That didn't faze me, but …Jordie's such a B.

I liked Shaw better than her and it's too bad he got hurt!

I wanted him to find another woman (he does reveal redeeming qualities).

Oh, well, they're both happy…